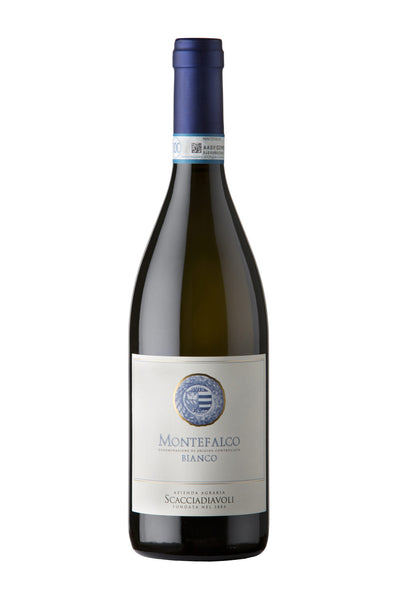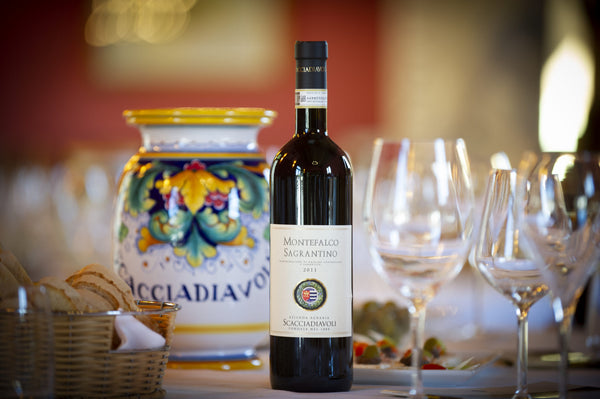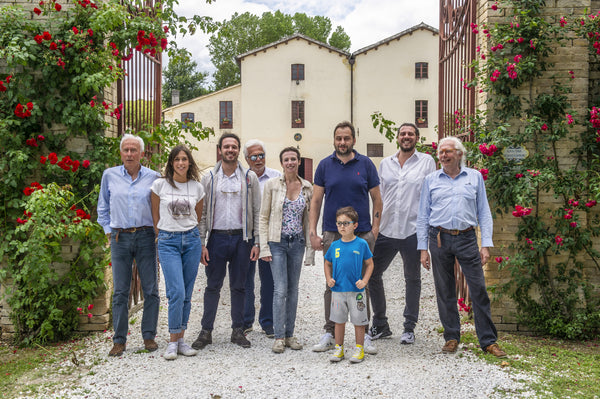 Azienda Agraria Scacciadiavoli
Scacciadiavoli Montefalco Biano - Private: $29.99/BTL - License: $25.49/BTL
Sold in cases of 12 · Vendu en case de 12
Founded in 1884, Cantina Scacciadiavoli, "cast out the devils", takes its name from a 19th century exorcist who lived in the small village bordering the vineyard. He was known to use the wines while performing his exorcist ritual of ridding poor souls of demons. The estate was built as a complex and modern wine "factory," which today spans 130 hectares, 40 of which are vineyards. The vines cover a hill in the heart of the Montefalco appellation, divided between the three provinces of Gualdo Cattaneo, Giano dell'Umbria, and Montefalco.
The winery consists of four vertical levels built into the hill, allowing for the use of gravity throughout production. The grapes arrive from the vineyards directly at the highest level then move down to the second level by gravity flow to be fermented and vinified in wood or stainless steel vats. The ground and underground floors are used to age the wines. The Pambuffetti family has owned and operated Scacciadiavoli since 1954.
This blend of trebbiano Spoletino 50%, grechetto 30%, chardonnay 20% is vinified separately, the trebbiano on skins to develop texture, the grechetto in stainless steel to retain bright fruit aromatics, and the chardonnay in large old wooden barrels for complexity. This has created a wonderful tropical, fennel-scented Italian white wine.To complete their full array of wines Scacciadiavoli lacked a structured, full-bodied and complex white to accompany richer dishes. By blending Grechetto, Trebbiano and Chardonnay (according to the DOC specifications) Scacciadiavoli created its Montefalco Bianco DOC, a crisp and complex, full-bodied white wine.
| | |
| --- | --- |
| Information |   |
| Année / Year | 2020 |
| Appellation | DOC |
| Grape Variety | Trebbiano Spoletino 50%, Grechetto 30%, Chardonnay 20% |
| Case | 12 |
| Format | 750 mL |
| Region | Montefalco – Umbria ,Italy |
| Alcohol % | 13% |
| Colour | Straw-yellow with golden hues. |
| Bouquet | Fruity with notes of peach, apricot, sweet fruit and nuts, hints of yellow flowers. |
| Flavour | Very lightly oak driven and full-bodied, crisp with a long finish and fruit presence. |
| Pairings | Perfect with various appetizers, soups, or salad.Also seafood dishes including fish (especially shellfish, grilled, fried, seafood salad, pasta dishes, fish soup), soft cheeses. |
| Serving Temp | 9C |