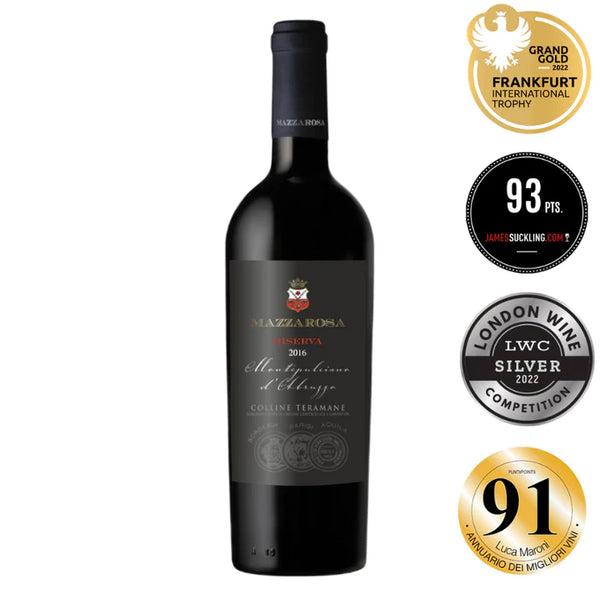 Azienda Agricola Mazzarosa
Mazzarosa, Montepulciano d'Abruzzo Riserva COLLINE TERAMANE DOCG 2016- Private: $44.30/BTL - License: $36.98/BTL
Sold in cases of 6 · Vendu en case de 6
Cantina Mazzarosa was founded in 1863 during the creation of the Kingdom of Italy, thanks to Senator Giuseppe Devincenzi, an innovator and a visionary. Now in its 6th generation. Rated 93 points by James Suckling. Intense ruby red color, tending to purple, with a fruity, rich aroma and a light spicy note.
In the mouth, flavors of ripe red fruits dominate: black cherry, plum, blue raspberry and berries, combined with spicy notes of black pepper and white pepper.
It can be paired with pork, beef, game, cheese. Serve at 18 °C. Montepulciano d'Abruzzo Riserva by Mazzarosa is produced in Casal Thaulero near Roseto degli Abruzzi.
The vines are grown with spurred cordon and the grapes are selected during the development phase to ensure maximum fruit concentration before harvesting. After fermentation, the wine remains in the cellar for four years before being marketed, maturing in wood and in oak barrels for 12 months. A further ageing in bottle for 12 months follows.
Intense ruby red in colour, it offers the nose aromas of red fruits in jam such as black cherry, plum, currant, accompanied by balsamic notes, licorice and peppery hints. Dried herbs and shades of tobacco return to the palate for a wine of great intensity and full body, soft and generous due to the tannic texture and long persistence.
Undoubtedly the ideal wine for stews and grilled lamb meats, it can best accompany meat, goat and aged cheeses.

| | |
| --- | --- |
| Information |   |
| Année / Year | 2016 |
| Appellation | DOCG |
| Grape Variety | 100% Montepulciano |
| Case | 6 |
| Format | 750 mL |
| Region | Contrada Borsacchio 6, 64026, Roseto degli Abruzzi, TE |
| Alcohol % | 14.5% |
| Colour | Intense ruby red color, tending to purple. |
| Bouquet | Black cherry, ripe cherries and blackberries, cloves, vanilla, dark chocolate, peppercorns ,accompanied by balsamic notes, and licorice. |
| Flavour | In the mouth it has a strong, full-bodied flavor, but at the same time tannic, soft, very persistent. Flavors of ripe red fruits dominate: black cherry, plum, blue raspberry and berries, combined with spicy notes of black pepper and white pepper. |
| Pairings | Montepulciano is a great wine to pair with savory and hearty meat dishes as the wine's tannic quality and acidity cut through fats. Serving suggestions include beef bolognese, brisket, barbecue meats , and hamburgers as well as any dish with a rich tomato-based or cheese sauce. |
| Serving Temp | 18C |