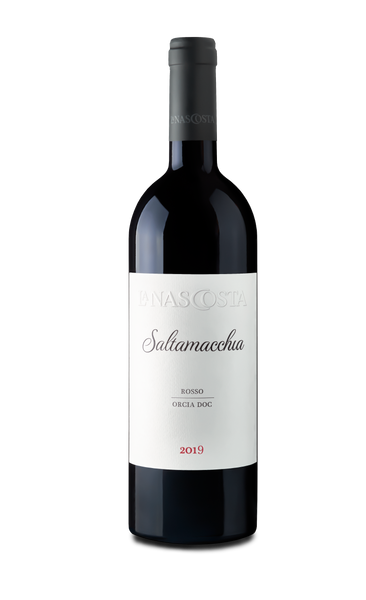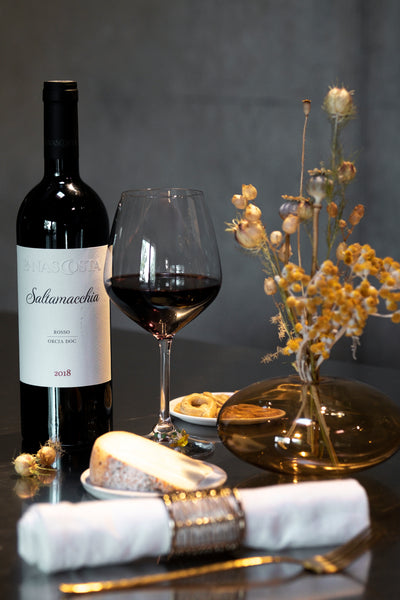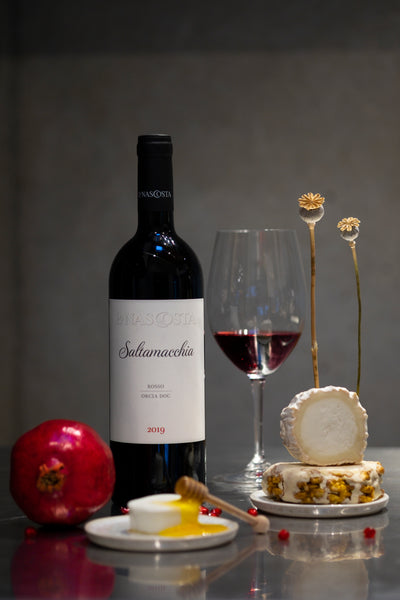 Antonio Mastrojanni Societa
La Nascosta, Saltamacchia - Private: $47.56/BTL - License: $38.98/BTL
Sold in cases of 6 · Vendu en case de 6
Introducing Saltamacchia, a captivating wine that marries the classic elegance of Sangiovese with the luscious touch of Merlot. This unique blend showcases the harmonious union of these two renowned grape varieties, resulting in a wine that tantalizes the senses and elevates any dining experience.
With its foundation of 90% Sangiovese, Saltamacchia embodies the essence of Tuscany, where the grape thrives in its ancestral home. The Sangiovese grapes impart a delightful bouquet of red cherries, raspberries, and wild strawberries, infusing the wine with vibrant fruitiness and a touch of rustic charm. Its medium body and well-structured tannins provide a pleasing mouthfeel and a firm backbone.
Complementing the Sangiovese, the addition of 10% Merlot adds a new dimension of richness and smoothness to Saltamacchia. The Merlot grapes contribute velvety textures and subtle nuances of blackberries, plums, and dark chocolate. This gentle touch of Merlot adds depth and complexity, enhancing the wine's overall character and creating a seductive palate experience. The grapes are selected and harvested, rigorously by hand, at a maximum temperature of 20°C (68°F). Then follows a second selection of the grape bunches and their maceration in cement vats at low temperatures. After their maceration start the operations of vinification, consisting mainly in breaking up of the cap and racking & returning (delestages) the liquid mass, a process lasting for two to three weeks. It is followed by a second maceration period of 15 to 25 days, which precedes the transfer of the wine in wood. The wine is aged in 500-liter French and Austrian oak tonneaux, for a duration of 12 to 18 months, with a subsequent refinement in bottle of at least six months.

Information
 
Année / Year
2019
Appellation
DOC
Grape Variety
90% Sangiovese , 10% Merlot
Case
6
Format
750 mL
Region
Val D'Orcia Italy
Alcohol %
14%
Colour
Saltamacchia has a strong and lively ruby color.
Bouquet
Saltamacchia's aroma is intense, with hints of ripe small red fruits, black cherry, cherry and cassis, warm spicy notes of black pepper and licorice root, floral notes of elderberry, violet and wet stone.
Flavour
The taste is elegant, with a well-balanced acidity and an excellent aftertaste of red fruit, characterized by a good, taut and long freshness, and fine, progressive and sweet tannins.
Pairings
When it comes to food pairing, Saltamacchia excels at complementing a variety of dishes. Its balanced acidity and medium body make it a versatile companion for Italian cuisine, especially classic Tuscan dishes like tomato-based pasta sauces, roasted meats, and aged cheeses. The wine's bright fruit flavors and gentle tannins also make it a splendid match for grilled vegetables, charcuterie, and savory risottos.
For a truly indulgent experience, consider pairing Saltamacchia with a succulent osso buco, where the wine's acidity cuts through the richness of the braised meat, while its fruity notes mirror the flavors of the accompanying tomato-based gremolata. The wine's elegant structure and lingering finish also make it a splendid partner for a juicy grilled steak or a fragrant mushroom risotto.
Serving Temp
17C